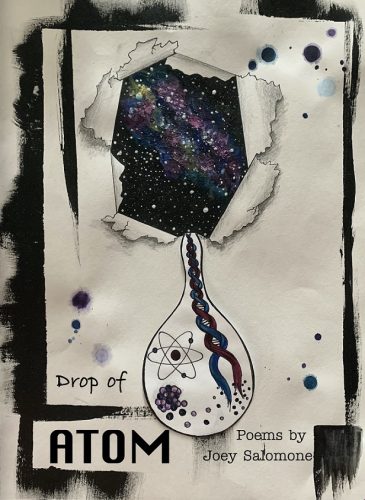 About Drop of Atom poems by Joey Salomone:
"Drop of Atom", Salomone's second book of poetry, is a poetic journey brimming with messages of love, mental health, and dwindling hope during the notorious covid-19 pandemic—all peppered with wit. Through writing that is stylistically diverse and bursting with raw poignancy, a highly relatable narrative is revealed. Within its pages, dire realities are also unveiled—albeit necessary ones. Experimental in its approach and cunning in its execution, it is evident that imposed limits are nonexistent along this literary path. "Drop of Atom" is at the intersection of the metaphysical and the tangible. You will be sure to run into the fantastical (ogres and pharaohs), the earthly (sunflowers and snowfall), and everything in between.
Buy the book:
Author Bio:
Joey Salomone was born in 1984 in Kansas City, Missouri. Joey was home schooled, which allowed him a lot of free time to read and write. He began writing poetry as a teenager and continued to write throughout high school and college. Joey attended Northwest Missouri State University where he received a bachelors degree in Broadcasting and a minor in Creative Writing. After graduation, Joey moved back to Kansas City and made independent films for several years while working at several local area restaurants. He then became an educator and taught High School English in the Urban Core of Kansas City, MO for several years. After the school he was working at closed, Joey did sales for a few years then attended UMKC's EMS Education program and received his Paramedic license. He worked for several years as a paramedic in Kansas City. After graduating from nursing school, Joey now practices as a nurse at a local KC hospital. He continues to read and write every day. Joey hopes to publish many more collections of poetry and prose, as well as several other projects he is working on. Joey and his brother Chris are currently writing a fantasy book series together and hope to release the first several books in 2020-21.
Joey writes weekly on his blog on a variety of topics, from healthcare to politics to movies & tv shows and discussion of poetry, short stories and novels.
https://illiteratesalami.blogspot.com/