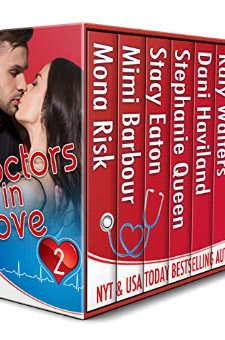 About Doctors in Love 2: Sexy and Determined by Dani Haviland:
To alleviate suffering, protect life and health, and restore respect for human beings… To provide medical care in emergencies, assist vulnerable people in crisis and conflict… Doctors and healers – trained and compassionate – taking care of patients…Yet who are also sexy and determined in their pursuit of love. DOCTORS IN LOVE 2 – Sexy and Determined: Come fall in love with these dynamic and life-saver heroes. Seven romance novels that also features intelligent, professional, warm-hearted, and empathetic heroines who are everything a modern woman can relate to. A thrilling and sometimes lusty Medical Romance box set brought to you by Seven of our ABB (Authors' Billboard) award-winning masters of romance.Love on the Slopes: Mona Risk, New York Times and USA Today bestselling author: For years, Gabriella has tried to hide her limp and the pain in her knee. After saving her from a ski accident, can Dr. Nathan end her pain and win her love?Because you Cared: Mimi Barbour, New York Times and USA Today bestselling author: Naomi wakes up from a coma with amnesia. When her past is revealed, she discovers she's given birth. Dr. Cameron McLean grows fond of the precious tiny newborn in his care, almost as much as he adores her mother.Wesley: Stacy Eaton, USA Today bestselling author: Dr. Wesley Young only wanted to help the tender-aged girl he witnessed fall, but when her mother attacks him at the park, he's left stunned.Lovesick: Stephanie Queen, USA Today bestselling author: Can an old-fashioned doctor cure a sophisticated business woman–with a case of lovesickness?That Magic Touch: Dani Haviland, USA Today bestselling author: Brought up in the backwoods by a father dedicated to helping those less fortunate, Ria was a genius at healing but ignorant of life and relationships. Would Evan be the one to show her what made life bright and enjoyable?The Wounded Healer-Diary of a Therapist: Katy Walters, USA Today bestselling author: Dr. Sophie Lampton mourns her lost love, but is he alive or dead? Will she accept the stunning psychiatrist's help or will she become The Wounded Healer?The Courage to Love: Taylor Lee, USA Today bestselling author: She's a medical doctor from India. He dismisses her traditional methods as quackery. But as much as he tries, he can't dismiss her.
Buy the book:

Author Bio:
The Authors' Billboard does it again with the first box set devoted to My Favorite Medics. Indulge in these themed stories by USA Today & NY Times Bestselling Authors Mona Risk, Mimi Barbour, Stacy Eaton, Stephanie Queen, Dani Haviland, Katy Walters, and Taylor Lee. Read for #Free anytime with Kindle Unlimited.