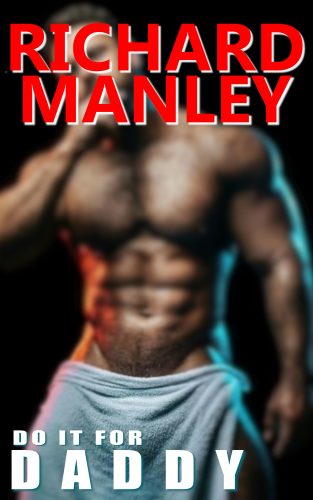 About Do It For Daddy by Richard Manley:
Coming of age story about a young man who experiences a forbidden desire for his stepfather. Gradually the realization dawns that the feelings may be mutual leading to taboo encounters.
CONFESSION
Joey has a confession to make about his stepfather. He's got feelings for him and not the kind he should have.
A PRIVATE TALK
Joey and his stepfather have a chat one night and begin to explore their taboo desires. Then Joey catches his stepdad in a compromising position that makes it hard for both of them to deny their feelings!
THE FIRST TIME
While on vacation Joey finally gets his wish. He's not sure if they've made a big mistake – but he can't resist!
TWO FOR THE PRICE OF ONE
Joey begins a coming-of-age adventure that takes him into the exciting world of men, guided by his stepfather.
THE MARRIED MAN
Joey has had a taste, and now he craves more! He's learning and exploring.
JUST THE TWO OF US
Joey gives in to his taboo desires again and knows that it will be hard to stop.
DOWN TO BUSINESS
Joey is now eager for new experiences and lets himself be dominated by an arrogant business daddy who teaches him about dominance and submission.
THE PARTY
The dominant businessman has plans for Joey. He has a little party, and Joey is the center of attention!
ONE MORE ROUND
The party has been intense, and though it's been a long night, there's always time for more!
THE STUMP
Joey enjoys the surprise endowment of Benny, a submissive man who will do whatever Joey demands. He's learned a few things from the dominant businessman, and he puts those lessons to good use!
DOUBLE DIPPING
Turns out Benny has a brother – a twin brother and Joey learns that it's true what they say about twins – there's a submissive one and a dominant one. Joey gets to enjoy the best of both worlds!
HEADING HOME
Joey struggles with his feelings and reveals his true self on the plane ride home. An older man in a nearby seat hears Joey's confession and has a confession of his own to make. That eventually gets Joey into trouble with a muscular flight attendant who decides to teach the young man a very important lesson.
BLACKMAIL
Joey wasn't the only one to confess a secret. He now knows something about the sexy neighbor next door and uses it to his full advantage.
DIRTY DADDY
Not the kind of family reunion you often read about.
Do It For Daddy is a coming-of-age story about a young man who has an inappropriate crush on his stepdad. In less than a week, Joey has learned a lot about adult sex games. He's gone from virgin to blackmailer, and he's just getting started!
Buy the book:

Author Bio:
A lonely scribe toiling away in the wee hours of the night about naughty men doing naughty things! Have many books published on Amazon and Kindle Unlimited. I'm sure you'll find one to tickle your fancy! Like Father Like Son – young man coming of age. The Wolf Next Door – paranormal gay erotica. Under Construction – butch construction worker Buddies, Secrets & First Times – various first time stories. True Blue – a dirty cop on the prowl! Lonesome Cowboys – gay cowboy in the Wild Wild Wild West. Jack Knight (Romantic & Erotica) – rich gay mystery writer. And there's more! Just check out my author profile to see if there's something to tickle your fancy!