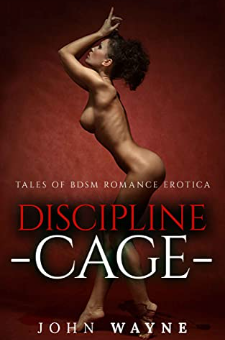 About Discipline Cage – Tales of BDSM Romance Erotica:
She sees her owner, the barkeep, talking with the stranger — and starts to tremble as they are both looking at her. When the stranger points at her with his knife, she quickly lowers her gaze again and moans softly, thinking about the beating she will receive later for staring at a customer. Lost and alone in her fear and misery, she is unprepared for the rough hand that reaches through the bars and painfully twists her now fully erect nipple.
Caught by surprise, she yelps in pain and slaps the hand away, cursing the brute in her native tongue. Big mistake. She is grabbed roughly by her hair and yanked into the bars, her forehead slammed violently into them and stunning her. His vile breath washes over her face, and through glazed eyes she recognizes the town's worst cretin. Other hands reach through the bars, holding her wrists, and this time there's no stopping the cruel hand assaulting her tender nipple. She closes her eyes in fear, and listens to his angry words, knowing she is in for pain tonight.
Buy the book:
Author Bio:
A sex psychologist with wild imaginations. John is all you need for vivid descriptions that'll set your mind free of all inhibitions.