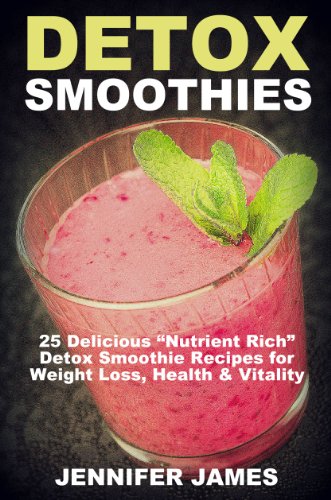 About Detox Smoothies:
Amazon #1 Bestseller – 1200 Copies Downloaded In 24 Hours from Launch!
Delicious "Antioxidant" Rich Smoothie Recipes for Cleansing, Detoxing & Burning Fat!
Feeling a little tired? Want to improve your health, mental state and vitality?
If so, this book is for you.
We live in a fast-paced world where time on our hands is in limited supply and getting our daily fix of vitamins, minerals and vital nutrition is becoming a rare event.
Welcome to the world of smoothies.
A simple, quick and easy way to get your daily nutritional needs from "powerful" antioxidant rich fruits & vegetables.
What's more — they taste DELICIOUS!
In Detox smoothies you will find only HIGHLY "antioxidant" rich recipes to detoxify your body.
With these recipes you get to:
Improve your health with powerful super foods bursting with vitamins and minerals
Detoxify your body with antioxidants to restore your health and vitality
Lose weight with fiber rich, low fat, delicious recipes – made in minutes!
Strengthen your immune system, cognitive functioning and overall mental state
Improve your skin, hair, zest for life and overall energy levels
Buy the book:
Author Bio:
Jennifer James is a health & fitness expert, author and entrepreneur living in London, UK. She enjoys educating others about fitness, nutrition and wellbeing through her books. Her vast experience helps her create nutritional guides to aid weight loss and create nutritious recipes that leave her readers coming back for more. Currently living with her husband and dog in East London, her aim is to reach 1 million people with her thoughts on fitness and nutrition in her lifetime.