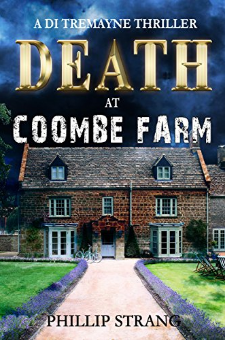 About Death at Coombe Farm (A DI Tremayne Thriller Book 4):
An idyllic setting. A violent death!
If it hadn't been for the circumstances, Detective Inspector Keith Tremayne would have said the view was outstanding. Up high, overlooking the farmhouse in the valley below, the panoramic vista of Salisbury Plain stretching out beyond. The only problem was that near where he stood with his sergeant, Clare Yarwood, there was a body, and it wasn't a pleasant sight.
'What happened?' Tremayne asked. He was a cantankerous man, he knew that, and he wasn't in a good mood on account of the biting wind and the squelching mud underfoot.
'I found him when I came up here to check on the livestock,' the farmhand said
'At what time?' Tremayne moved away from the body, attempting to find somewhere drier. The condition of the track up to the site was so bad that the vehicle sent to transport the dead man to the mortuary could not make it up. Even Tremayne and Clare had had to hang onto a tractor to get up the slope, and now the weather looked as if it were about to worsen.
Tremayne had never been keen on farms, and especially horses, although Clare loved them. Tremayne assumed she wouldn't be so fond of the one that trampled Claude Selwood to death.
Buy the book:
Author Bio:
Phillip Strang, an avid reader since childhood, was born in the late forties in England.
In his early twenties, the author, with a degree in electronics engineering, left England for Sydney, Australia.
Now, nearly fifty years later, he still resides in Australia, although many intervening years spent in a myriad of countries, some calm and safe – others, no more than war zones.
The author of thirty-one books, the majority of them crime thrillers based in the United Kingdom, he has also written several books on terrorism and one on a pandemic.