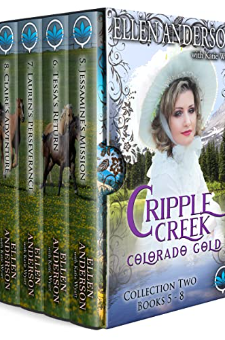 About Cripple Creek Colorado Gold Collection Two Books 5 – 8: A Clean Western Historical Romance Novel (Box Set Complete Series Book 56):
You'll get FOUR full-length novels in one boxed set, Clean and Wholesome Historical Western Romance.
A new season begins in the lives of Cripple Creek's citizens, and it's every bit as exciting and heartwarming as the last!
Collection 2 (Books 5 – 8 of 12 book series) of Cripple Creek, Colorado. As winter finally begins to leave Cripple Creek, its residents venture out and about, resuming their regular lives after a long spell of cold and danger.
Book 5 Jessamine's Mission: Boarding house owner Jessamine stumbles upon love with reclusive drifter Duke. Can Duke regain his faith in God quickly so he and Jessamine survive long enough to build a future together?
Book 6 Tessa's Return: Tessa returns to her old hometown, only to receive a less than warm reception from everyone, including the man she once loved, Blake.
Book 7 Lauren's Perseverance: strong-willed Lauren, daughter of a Cripple Creek founding family, who falls in love with a pastor in a neighboring town, only to discover Rick's not so sure she's a proper enough lady for him.
Book 8 Claire's Adventure: recently-arrived-to-town Claire never expects to set her sights on a miner, much less one with a dangerous past, but the heart wants what it wants, and hers wants Henry.
Cripple Creek Colorado Gold Romance Series by bestselling authors and Kindle All-Star Ellen Anderson with Katie Wyatt!
Book 1 Mary's Renewal
Book 2 Delia's Strength
Book 3 Melody's Courage
Book 4 Veronica's Challenge
Book 5 Jessamine's Mission
Book 6 Tessa's Return
Book 7 Lauren's Perseverance
Book 8 Claire's Adventure
Book 9 Evelyn's Hope
Book 10 Louisa's Faith
Book 11 Nora's Wish
Book 12 Rita's Gift
Read all Mega Box Set Western Romance Complete Series
Available as a value box set amazon.com/dp/B0854K9DVX (copy and paste the link into your browser)
1. Pioneer Wilderness Romance 26 Book Mega Box Set Complete Series
2. Historical Pioneer Wilderness Romance 25 Book 6 Complete Series
3. Frontier Brides and Cowboys Western Romance 27 Book Mega Box Set 5 Complete Series
4. 50 Boxset Inspirational Historical Western Romances, Mail Order Bride
6. Frontier Brides Romance 23 Books 5 Complete Series
Read All Box Set Mail Order Bride Historical Complete Series by bestseller and Kindle All-Star authors Ellen Anderson with Katie Wyatt!
Available as a value box set amazon.com/dp/B08617N8JS (copy and paste the link into your browser)
1. The Grant Boys Complete Series
2. Montana Mail order Brides Brides of Bedford Series Collection 1 – 4
3. Aspen falls Complete Series
4. Wild West Brides of Bodie Complete Series
5. Orphans of Albany Complete Series
Ellen Anderson's Clean and Wholesome novelette American Mail Order Bride Historical Western box set romance series is enjoyable for all ages.
Buy the book:
Author Bio:
Katie Wyatt is 25% American Sioux Indian. Born and raised in Arizona, she has traveled and camped extensively through California, Arizona, Nevada, Mexico, and New Mexico. Looking at the incredible night sky and the giant Saguaro cacti, she has dreamed of what it would be like to live in the early pioneer times.
Spending time with a relative of the great Wyatt Earp, also named Wyatt Earp, Katie was mesmerized and inspired by the stories he told of bygone times. This historical interest in the old West became the inspiration for her Western romance novels.
Her books are a mixture of actual historical facts and events mixed with action and humor, challenges and adventures. The characters in Katie's clean romance novels draw from her own experiences and are so real that they almost jump off the pages. You feel like you're walking beside them through all the ups and downs of their lives. As the stories unfold, you'll find yourself both laughing and crying.The endings will never fail to leave you feeling warm inside.