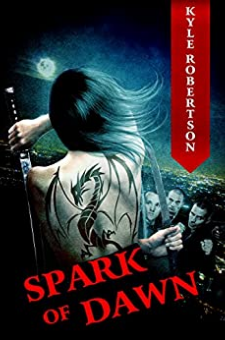 About (Crime Thriller) Spark of Dawn: The Assassin's Vindication by Kyle Robertson:
HOW DO YOU SAVE YOUR BROTHERS TRICKED INTO KILLING YOU?Yoake Hibana (Dawn's Spark in English) is a female Yakuza assassin of the Rising Dragon Clan. Her moniker was the Demure Assassin. She was a peak assassin. The only problem with her was she was a 'her'. Females were mothers, daughters or mistresses in the Yakuza. Being a soldier was unheard of.One day after a certain assassination, she checked the dojo for security and happened upon her leader, the oyabun. She heard what she shouldn't have.Sensei Tagai, her oyabun was on the phone planning the obliteration of his own clan! All her brothers were targeted for intentional death!Tagai saw her, and tried to kill her. She escaped with her skills and became a fugitive. Tagai yelled to her he would tell her brothers she was the traitor, and to hunt her down to kill her. She had to find a way to warn her brothers while avoiding katanas from the misguided clan. Yoake went through many calamities before she chose her last resort, confiding in a straight police officer. She was different, but help from a cop was sacrilege in a Yakuza clan.Lieutenant Tagawa despised Yakuza, but his public duty was to assist anyone marked for death. She was affiliated with Yakuza, but she was a human Yakuza. He just didn't know how deep her distress went.Follow the Demure Assassin on her harrowing journey to thwart her chauvinistic oyabun. Trying to stop him from murdering his entire clan gets much deeper than just vindicating for her brothers in Spark of Dawn: The Assassin's VindicationIn this underworld opposites attract thriller you get:Underworld betrayalUnderworld collusionA non-traditional suspense thrillerA wild Japanese underworld fiction adventure storyThe show of a woman's strengthA romance which never should've happened See how this tale of dark intrigue ends in Spark of Dawn: The Assassin's Vindication
Buy the book:

Author Bio:
Kyle R. Robertson was born in Baton Rouge Louisiana on January 1, 1970. When he was young, his mother told him that everyone on Earth was celebrating his birthday. Then he grew up, and learned the truth. At least his mother thought he was special. He has kept that feeling from his mother all his life. Kyle grew up an only child, and had no siblings to play with. When he was 3, and moved to Milwaukee Wisconsin from Baton Rouge Louisiana, he had no cousins to play with anymore. He learned early that you had to use your imagination to stay interested in life. He gathered many friends, but only two real friends. The two were gained at high school level, Jeff, and Jamie. Jeff has stayed with him ever since, and Jamie stayed with him until he tragically passed. Kyle was always an entertainment buff. Movies, books, music, art, you name it, After his stint in the military, he became a master of sales. He knew over 800 electronic consumer devices, and had other salesmen asking him obscure histories of products. He stayed with sales most of his life. From car audio, luxury vehicle sales, and home maintenance equipment. He became a trainer at that vocation, but he always wanted to entertain. He was stricken with Diabetes, and lost most of his sight, but Diabetes kept going. He lost his kidneys, and couldn't work anymore. He was lucky to get a transplant He became fidgety because he was used to 16 hour days. He had to do something, so he began to write stories from the characters he made up in high school. Thus began his writing career.