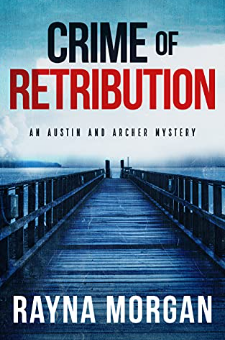 About CRIME OF RETRIBUTION: A Gripping Crime Mystery Full of Twists (An Austin and Archer Mystery Book 1) by Rayna Morgan:
Are you fascinated with fast-paced mysteries that keep you guessing to the end?The captivating action begins with an executioner trying to kill Dan. Will Dan's relationship with a local jazz singer turn out to be more deadly than just a broken heart?Lea looks forward to working with Dan Archer, her new partner at the Conley Austin Detective Agency. But will she be caught in the crossfire of the cold-blooded assassin trying to kill him?Their first big case together involves a client accused of killing a migrant farm worker. During their investigation, they discover a local produce farm illegally shipping cocaine in crates of avocadoes.Can you figure out who's behind all the devious treachery – and who is trying to murder Dan? Join Lea and the former Texas Ranger as they work together to unravel these latest evils.If you like fast-moving mysteries, non-stop action with witty heroes and ruthless villains, you'll love this high-octane addictive story.CRIME OF RETRIBUTION is a great summer read that will keep you turning pages to the surprising conclusion. BUY NOW!What readers are saying about Rayna's books:"I thought I had figured out who the murderer was but was surprised by who it really was.""Rayna Morgan has a deft touch with making everything real." "Love the series. Wanting more.""A gifted storyteller. Do read.""I love the characters and the story flows so well can't wait till the next one you laugh cry and learn something too."The first installment of the Austin and Archer Mystery Series is chock-full of suspense, mystery and action that will keep you glued through the final sentence. . . Get CRIME OF RETRIBUTION NOW!If you like Faith Martin, Dianne Harman, Melinda Leigh, Kendra Elliot, Mary Burton, Rachel Caine, Lisa Regan, Lisa Jackson, Nora Roberts, Catherine Coulter, Lisa Gardner or Allison Brennan you'll love Rayna Morgan.The Austin and Archer Mystery Series is featured in a number of Kindle categories including: mystery thriller and suspense, women sleuths, amateur sleuths, female protagonist, private detective, female detectives, thriller, women's Christian fiction, action and adventure, cozy mystery, detective books, and series.Get CRIME OF RETRIBUTION NOW!
Buy the book:
Author Bio:
Rayna is a mystery writer living in Southern California, who loves all things motivational and inspirational, animals (especially border collies and golden retrievers), yoga, meditation, travel, walking on the beach and a good mystery.
She imparts a bit of wisdom and passion in her fiction, making her books in the mystery genre unique.
The "Austin and Archer Mystery" series provides intriguing plots, compelling characters, and a touch of romance, all within the setting of a beautiful beach community.
Each mystery also contains at least one message about the meaning of our journey and the discovery of who we are.