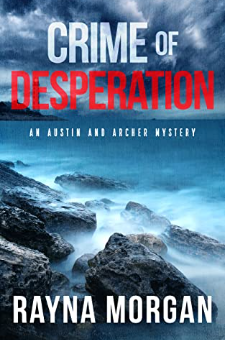 About CRIME OF DESPERATION: A Gripping Crime Mystery Full of Twists! (An Austin and Archer Mystery Book 3) by Rayna Morgan:
Don't you love a fast-paced, action-packed suspense story filled with mystery, murder, and malcontent?
Read what happens when:
• A psychic puts her life in danger to prove herself
• Ruthless men pursue their partner's share of illicit gold
• A domineering father tries to control his son's life
• A musician is desperate to get a recording contract
The captivating action begins with an aborted attempt to end a client's life. Will Dan and Lea find the murderer before they succeed or will they become the prey?
Dan has a problem only he can resolve. Can he sort things out before he is put in jail for past discretions?
Can a psychic detective solve the case without putting herself in danger or is she just sticking her nose in where it doesn't belong?
If you like fast-moving mysteries, non-stop action with witty heroes and ruthless villains, you'll love this high-octane addictive story.
CRIME OF DESPERATION is a great read that will keep you turning pages to the surprising conclusion. BUY NOW!
Buy the book:
Author Bio:
Rayna is a mystery writer living in Southern California, who loves all things motivational and inspirational, animals (especially border collies and golden retrievers), yoga, meditation, travel, walking on the beach and a good mystery.
She imparts a bit of wisdom and passion in her fiction, making her books in the mystery genre unique.
The "Sister Sleuths Mystery" and "Austin & Archer Mystery" series provides intriguing plots, compelling characters, and a touch of romance, all within the setting of a beautiful beach community.
Each mystery also contains at least one message about the meaning of our journey and the discovery of who we are.