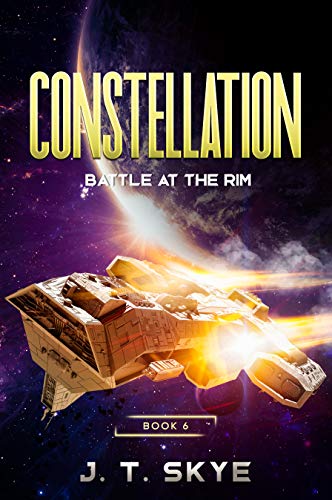 About Constellation: Battle at the Rim – Sci Fi Military Space Opera & Alien Conquest (Trigellian Universe – Warrior Series Book 6):
He was the highly decorated Battle Commander who won the Slave War. Power hungry bureaucrats want him dead. They didn't send enough ships…
The Slave War lasted a thousand years. Oman Lim destroyed the enemy with uncanny skill and battlefield ingenuity. Now, power hungry bureaucrats are afraid he will interfere with their arrogant pursuit of greed, power and control.
Sending him on a death mission was easy. Having him die there? Not so… His keen and unconventional battle tactics make it difficult to kill him at every turn.
They were fearful of his skill and ability. They had a right to be.
Grab your copy now, buckle up and hang on as you journey with General Oman Lim as he battles to overcome incompetent bureaucrats, fearless adversaries and hidden saboteurs, until the final, heart-wrenching battle when he is attacked by a Dreadnought a hundred times bigger with inconceivable firepower.
This military action adventure and space opera at its finest… sit back and enjoy!
Buy the book:
Author Bio:
If you like fast-action, space battles and troubled heroes, then click the 'Follow' link to receive new release emails from Amazon and sign up at JTSkye.com for free stories. I've written 17 novels and 3 shorts in 4 series. I created the Trigellian Universe as the central playground of all of my Sci Fi Space Opera, Science Fiction Action-Adventure and Military Sci-Fi series stories. I love to write stories of heroic quests, ancient prophecies and mythical journeys along roads less traveled. They include grand, military space battles, secret alliances, desperate treachery, vengeance and retribution against the arrogance, elitism and glory hunting found at the highest levels of society. From pirates, slavers, saboteurs and assassins… to elite Warriors, trader families, cargo haulers and the many desperate refugees just trying to escape conscription, buy air to breathe and just live. . . one more day. If you love Sci Fi, Fantasy and Action Adventure, join me on the journey of a life time.