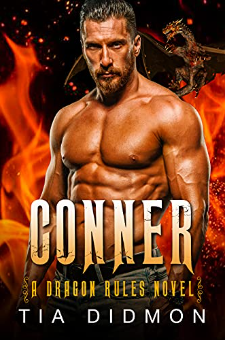 About Conner by Tia Didmon:
A Dragon. A Druid. A Vendetta.
Freya Rose uses her abilities to help others and pay the bills, but her rising magic is out of control and puts others in danger. When her attempt to bind her powers lands her in the sights of a sexy dragon claiming she is his mate, she is forced to accept her father's mistakes and her druid heritage.
When her boss is murdered and a monster from her criminal past resurfaces, she must trust her dragon mate and embark on a perilous quest, or risk the death of her best friend.
If you like the bite of the Reclaimed Dragons, Dragon Kings, and the Dragons of Mount Aterna series, then you'll devour Tia Didmon's sexy, imaginative series.
Buy CONNER and sink your teeth into this action-packed paranormal romance today!
Buy the book:

Author Bio:
Tia Didmon is a USA Today bestselling author of provocative paranormal romance, whose readers also tend to love Brittany White, Serena Meadows and Amelia Wilson, among others. When Tia isn't busy writing about sexy shifters and dreamy demons, she spends her time binge watching The Order and reruns of The Vampire Diaries, cooking with her daughter, and serving her cat. Her love of writing stems from a self-diagnosed book addiction.
Subscribe to Tia's newsletter at tiadidmon.com for a free book and start your journey through Tia's supernatural world today!