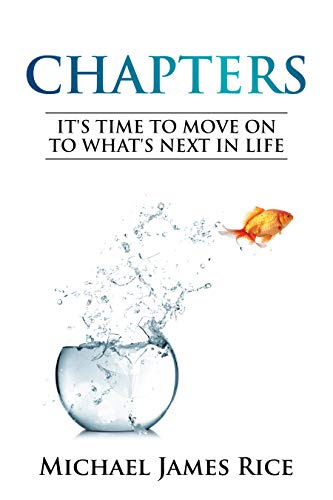 About Chapters by Michael J. Rice:
Have you ever felt stuck?
Like there must be something more, better, than what I am experiencing right now? You know there is something better for you, but it just seems like there are things happening or that have happened to you that is preventing you from getting "there".
The chapters of our life have been ordained to occur in an orderly fashion, but they rarely do. We often get stuck between or within chapters and our lives become stale or worse.
Being stuck is miserable. Miserable for us and miserable for those who have to deal with us. Being stuck is dangerous and can literally make us sick. Sick of our job, family, marriage, sick of life. People often do stupid things when they are stuck, which usually just makes them more stuck. Like flailing in the midst of quicksand we are placated by the struggle but seem oblivious to the reality we are only getting more stuck.
Can this book help you?
Not in the usual sense of a self-help book where the author tells the reader what to do and success is dependent upon the reader properly carrying out those directives. If the step-by-step self-help books worked, then why are so many new ones being written every year?
Besides if we could self-help would we still be stuck?
This book was written in the solitude of nature, in my truck, in my bedroom, or the quiet noise of a nearby coffee shop. This book is about life, and it was written while life was ever-present. Much of it is written while fasting to most clearly hear from God.
Hemingway has been quoted as saying there is nothing to writing, just sit down at your typewriter and bleed. That seems dramatic but I kind of understand. This book has been in the works for years, in fact, most of my life. I am not sure if I am writing this book or God is writing it through me. Something beyond me has unfailingly compelled me forward. My hesitation to write is found in the fact that many smart and gifted people have written books, I am neither. After all that has been written what could I possibly add? Seriously, I am nobody. Besides, I can be lazy, and writing is work.
And yet God would not let me avoid it.
As I have written these truths I have laughed, winced, and even cried when I thought of the experiences I had so I could learn these truths and prayed from my heart that you would know his heart for you in whatever you face.
Buy the book:

Author Bio:
About Michael James Rice
I am a blessed husband to Gale Beth, a dad to two sons, a foster dad to more, and an extraordinarily ordinary man with a heart to see people know the immeasurable love that God has for them and to free them from those things that keep them from experiencing his love to the fullest. I have been honored to share God's heart in large gatherings, small gatherings, with addicts and the homeless, in back alleys, and in automobiles. I am a nobody, but boy to I have something to tell you!