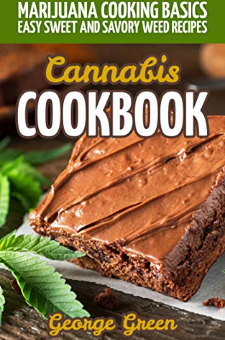 About Cannabis Cookbook: Marijuana Cooking Basics – Easy Sweet and Savory Weed Recipes (Cooking with Weed):
Whether you are an experienced smoker, a recreational user, a medicinal cannabis user, or just a marijuana enthusiast, there are many creative ways to give your taste buds a hint of marijuana. This cookbook contains all the information you need to start cooking with cannabis.
Download FREE with Kindle Unlimited!
Once you learn the basics of cooking with cannabis, it becomes easy to make your favorite recipes. Inside, you will find the different methods you can use to add weed to your favorite recipes including:
•Cooking with already been vaped (ABV) cannabis
•How to make cannabis butter and cannabis coconut oil.
•How to make cannabis cream and cannabis milk.
•The importance of decarboxylating Marijuana and how to how to decarboxylated cannabis-infused oil
•Safety measure while Infusing
This collection of 50 cannabis recipes includes breakfast recipes, savory recipes, snacks, and desserts. You are sure to find many to try. Some of the recipes included are:
•Cranberry Granola Breakfast
•Mushroom Egg Omelet Morning
•Apple Cinnamon Pancakes
•Canna Choco Smoothie
•Broccoli Cream Soup
•Cannabis Mayonnaise
•Bacon Spinach Stir-Fry
•Bulgur Salad
•Chicken Wings
•Shrimp Creole
•Oat Balls
•Classic Chocolate Chips Cookie
•Guacamole
•Sweet and Spicy Mixed Nuts
•Marshmallow Apple Lips
•Coconut Pie
•Mini Peach Cobblers
•Red Velvet Cupcakes
All recipes come with a detailed list of ingredients, cooking time, number of servings, easy to follow step-by-step instructions, and nutritional information per serving.
Read on your favorite devices such as Kindle, iPhone, iPad, Android cellular phone, tablet, laptop, or computer with Amazon's free reading Kindle App.
Lets start cooking! Scroll back up and click the BUY NOW button at the top right side of this page for an immediate download!
Buy the book:
Author Bio:
George is a passionate gardener and the official home cook for his family. He has passed on his passions into his writing. He lives in Ottawa, Canada with his wife and their dog Rusty.