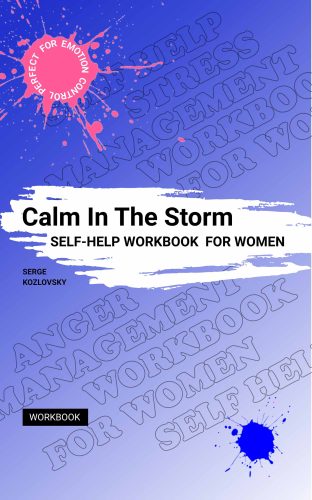 About Calm in the Storm. Self-Help Workbook for Women by Serge Kozlovsky:
In this rapidly changing world, a woman is accompanied by many unexpected situations and stresses. Often it is difficult for her to adapt to what is happening, and she feels how an unpleasant situation draws her into a funnel.
The woman suffers from mental imbalance and increased anxiety that does not go away. All this interferes with making correct, rational decisions.
How are you able to stop, find inner confidence and calmness in yourself during external storms?
What is the way to reduce anxiety and overcome fears?
How is it possible to find inner harmony?
Our book "Calm in the Storm. Self-Help Workbook for Women" is waiting for you to provide real help.
This workbook was created especially for women and continues the series of books on self-development. It contains inspirational quotes by Serge Kozlovsky, cutting-edge self-help therapy practices and art therapy to achieve your inner balance. ♥
★ Open "The Calm in the Storm. Self-help Workbook for Women" book from any page.
★ Do full of interest, educational and, at the same time, very simple therapy exercises.
★ Paint on specially prepared coloring pages for you.
Feel how a calm state and clarity of mind come to you, how your inner strength increases and an understanding of the world around you comes.
START TODAY AND ACHIEVE A STATE OF INNER BALANCE!
TAKE PLEASURE WITH SERGE KOZLOVSKY'S BOOK "CALM IN THE STORM. SELF-HELP WORKBOOK FOR WOMEN"! ♥♥♥
Buy the book:

Author Bio:
Serge Kozlovsky is a writer and musical critic whose writings have received wide international recognition. He was born on April, 17, 1969. Serge Kozlovsky graduated Belarusian State University of Informatics and Radioelectronics in 1993. His first publication was issued in 1994. Writings by Serge Kozlovsky have been published in various magazines such as "Bezdelnik", "Week-end", "Finances", "Jazz Quad", "Our Good News" (Belarus), "The Deli" (USA), newspaper "Muzykalnaya Gazeta" (Belarus). He prepared the TV program "Natura Poetica" on the Minsk 8 TV Channel. Serge Kozlovsky is the author of more than 500 musical reviews, 50 interviews and articles, 60 fairy tales and a lot of poetical series. The address of his personal web site is http://sergekozlovsky.com The Facebook address is: http://www.facebook.com/serge.kozlovsky Serge Kozlovsky was Cheshire Grin Publishing winner – Best in Sales in 2016, 2017 and 2019.