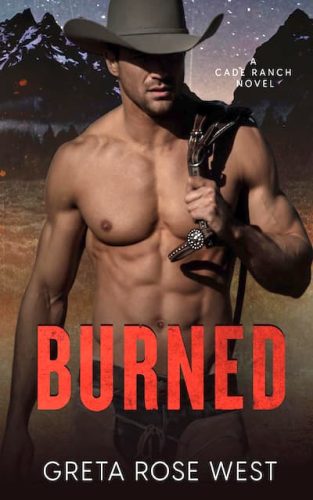 About Burned: A Cowboys of Cade Ranch Novel by Greta Rose West:
From Internationally Bestselling Small-town Western Romance author, Greta Rose West…
Jack Cade already has enough on his shoulders with his four brothers, his struggling Wyoming horse ranch, and his adopted mama going through chemo again. He doesn't have time for a woman, and he doesn't trust them. But when Everlea Donovan falls into his life—literally—he can't stop fantasizing about her.
Wanting her.
But Everlea's hiding something, always looking over her shoulder, ready to run at any moment. She can't risk putting Jack and his family in danger, but she's never wanted anything—anyone—the way she wants him.
When she starts feeling at home at Cade Ranch with its wide open meadows and breathtaking mountain views, she begins to let down her guard—to both her heart and her safety—and that's just asking for trouble…
The first book in the Cade Ranch series, BURNED, is a steamy romance about learning to trust and letting love guide you home…
Trigger Warning: This book contains subjects of a mature nature and language. Issues of parental loss, abduction, and burn victims may be triggered. But there is a guaranteed Happily Ever After and lots of good ol' down home sexy fun.
Buy the book:
Author Bio:
Greta Rose West was a floundering artsy flake until Jack showed up, knocking on the door of her brain, pounding on it, and then he just plain kicked it down. She's a boy mom to a grown freakin' man, and she lives in NW Indiana with her husband and her two precocious kitties, Geoff Trouble and Sally Mae Midnight. When she's not writing, she's reading and devouring music. She enjoys indie films no one else likes, and her favorite food is Aver's Veggie Revival pizza.