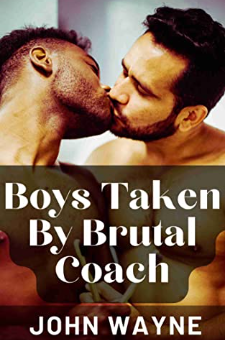 About Boys Taken by Brutal Coach: Explicit Rough Naughty Scorching Erotic Taboo Stories: MMF Threesome, Dark Romance, Rough Daddy, Dominate, Group, Brats, Reverse Harem Romance, Group Swinger:
"He unlocked Andy from the rest of us and took him over to the cross where he shackled his outstretched arms to straps at the top and leg irons at the bottom. Then he played with his cock. "Come on boy, get it up," he demanded. Andy was a big guy and his cock was dangling low. "Right you cubs, help this puppy rise," Geoff continued. "Stay on your fours and come over here." We moved to where Andy was chained and huddled around him taking turns at mouthing his member. While this was going on, the coach continued to slap us. "Not good enough," Geoff shouted. "I want the three of you to maul him at the same time." Ray and myself licked his tool while James took hold of one of his hanging balls and munched them. Andy started to stiffen and Ray immediately put his mouth over his knob and began to work it. I went down and gobbled the other ball. Andy's sack began to fill as he became very aroused. "No noise," Geoff cried slapping Andy on the cheek…"
Buy the book:
Author Bio:
A sex psychologist with wild imaginations. John is all you need for vivid descriptions that'll set your mind free of all inhibitions.