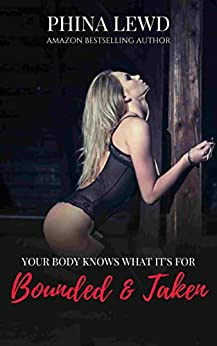 About Bounded & Taken – Your body knows what it's for:
"You have 3 holes bitch and all of them are the same, just another cunt for a Masters cock, you will learn to obey and give the pleasure that you were meant for." With that he thrust his cock through the ring slamming the back of her throat, choking the breath from her. There was only seconds for her to gasp for air when he pulled out before he plunged the massive cock into her mouth again. In the same moment another cock was pounding into her pussy while hands were pinching and pulling at her nipples.
Buy the book:
Author Bio:
A sex psychologist with wild imaginations. Phina is all you need for vivid descriptions that'll set your mind free of all inhibitions.