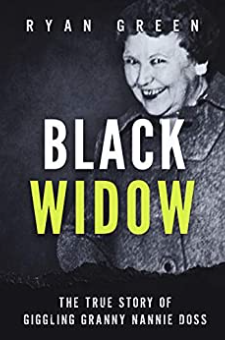 About Black Widow: The True Story of Giggling Granny Nannie Doss (Ryan Green's True Crime):
In 1927, Charley Braggs arrived home to find two of his children dead. The doctor who observed the children in their last moments diagnosed food poisoning as the cause. There was no need for an autopsy. His wife, Nannie, blamed tainted grains as the source but Charley wasn't convinced.
Charley didn't feel safe around his wife. In the middle of the night, he took his eldest daughter and ran for his life.
The outpouring of sympathy doubled for Nannie when they discovered her husband's treachery. To her community, she was a sweet lady renowned for her cheerful disposition. But behind the facade was a much darker and sinister reality. A truth that four of her future husbands, two of her sisters, her mother, her mother-in-law, her nephew and her grandson would perilously discover.
Black Widow is a dramatic and chilling account of one of the most shocking true crime stories in American history. Ryan Green's riveting narrative draws the reader into the real-live horror experienced by the victims and has all the elements of a classic thriller.
CAUTION: THIS BOOK CONTAINS DESCRIPTIVE ACCOUNTS OF ABUSE AND VIOLENCE. IF YOU ARE ESPECIALLY SENSITIVE TO THIS MATERIAL, IT MIGHT BE ADVISABLE NOT TO READ ANY FURTHER
Buy the book:
Author Bio:
Ryan Green is a true crime author in his late thirties. He lives in Herefordshire, England with his wife, three children, and two dogs. Outside of writing and spending time with his family, Ryan enjoys walking, reading and windsurfing.
Ryan is fascinated with History, Psychology and True Crime. In 2015, he finally started researching and writing his own work and at the end of the year, he released his first book on Britain's most notorious serial killer, Harold Shipman.
He has since written several books on lesser-known subjects, and taken the unique approach of writing from the killer's perspective. He narrates some of the most chilling scenes you'll encounter in the True Crime genre.
"Ryan Green is an incredible storyteller…he doesn't just tell the story, he allows you to be part of it." ~Blackbird
Join Ryan's Reader Group to receive a FREE book, notifications of new releases and limited-time offers at www.ryangreenbooks.com/free-book