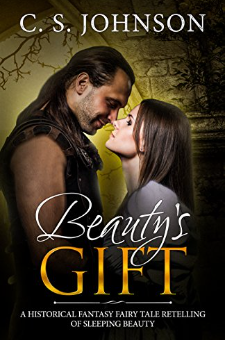 About Beauty's Gift: A Historical Fantasy Fairy Tale Retelling of Sleeping Beauty (Once Upon a Princess Book 4):
"I don't want to talk about it, Mary." She measured her words out carefully, keeping her tone light. "I told you, he had to go and take care of something for his grandfather. It was important." "It was more than that." "It doesn't matter." "Obviously, it does, or you wouldn't be acting like this." Mary came up beside her. "He told you that he loved you, didn't he?" The blush on her cheeks burned hotter. "Please stop, Mary," she said. "Isn't it bad enough that he said it?" "But Rose, you love him, too." Mary arched her brow at Rose's silence. "Don't you?" "Of course I do," Rose snapped. "But he doesn't deserve to be stuck with me and my curse. That's why it's better that he left." "Oh, Rose." Mary came up and leaned against her, stroking her hair in a mothering manner. "I'm so sorry." "Don't be." With only weeks away from her eighteenth birthday and the fulfillment of her curse, Rose, the Princess of Rhone, faces more obstacles than ever. The kingdom, anxious over her fate, is destabilizing under her father's rule; her mother is imprisoned, and her uncle is holding a silent coup against the crown. With Theo's absence, she is unable to do more than brood over her fate as she attempts to solve the problems around her. When Theo returns with surprising information, Rose knows the time has come to risk everything. Along with her friends, she prepares to face Magdalina, the wicked ruler of the fairies, and fight the battle of her life – the battle for her freedom, her kingdom, and her heart. Enjoy the conclusion to this historical fantasy fairy tale series, a fun retelling of the Sleeping Beauty tale. "Beauty's Gift" is a tale full of true love, adventure, revenge, and betrayal that will have you guessing until the very end!
Buy the book:
Author Bio:
C. S. Johnson is the award-winning, genre-hopping author of several novels, including young adult sci-fi and fantasy adventures such as the Starlight Chronicles series, the Once Upon a Princess saga, and the Divine Space Pirates trilogy. With a gift for sarcasm and an apologetic heart, she currently lives in Atlanta with her family. Find out more at http://www.csjohnson.me.