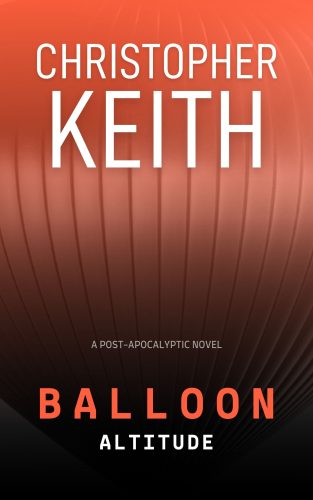 About Balloon: Altitude by Christopher Keith:
Great things never come from comfort zones. In an era of exploration like never before, they must rise to the challenge. And dare to fall.
Fable Sky, the world's largest zero-pressure helium balloon, embarks on its inaugural flight into the stratosphere.
The space tourism project has taken many years, the assembly of a highly trained crew and a small fortune to get off the ground. If everything goes well, it will be a flight of discovery and transformation, a triumph of the human imagination. Furthermore, the commercial possibilities will ensure a prosperous future, targeting people yearning for a taste of space.
When the mission is turned upside down at 138,000 feet, things quickly spin out of control, putting the crew's lives in danger. It will need the project leader and captain, Will, to draw on all his experience and pull them together for what will be an event that could change the course of human history – and possibly end it.
Balloon is a masterful, fast-paced adventure with a crisis that cannot be resolved, action that never slows down, and a world like you've never seen before.
Buy the book:

Author Bio:
Christopher Keith is the author of Lifeline, Clotho and the Balloon trilogy series.
He graduated with qualifications in education, creative writing, editing and publishing, adding to those he obtained during the much-too-distant 90s in business and finance – indecisiveness at its finest right there.
​Christopher has always been passionate about education and creative writing. This perfect combination of disciplines helped him develop his style, and there are no limits to the occasional dark nature of his imagination. Creative at heart, he enjoys videography and graphic design. His true passion, however, is writing high-stakes, action-packed thrillers, the ultimate escapism.
​Born and raised in southern England, which serves as the backdrop to his novels, he now lives in Sydney with his wife and two children.