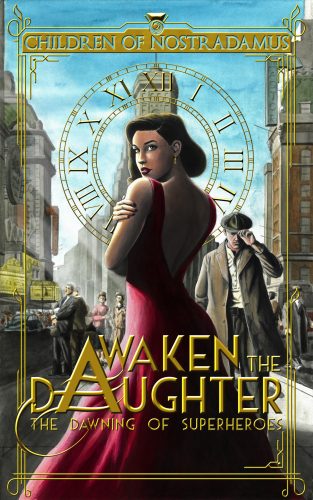 About Awaken the Daughter:
She will defy a future written in stone.
In 1943 Eleanor sees fragments of the future, but despite her efforts, she can't alter destiny. Orphaned as a girl, she believes the visions are a curse created by the Devil. As a young woman, she has made peace with watching atrocities unfold twice. But when she finds a grifter with the ability to hear her thoughts, she realizes she is not alone.
Those with gifts are being murdered.
Eleanor tempts fate and sets out to stop a mysterious serial killer hunting the streets of New York City. But in her quest to protect those with similar gifts, Eleanor discovers something darker than bloodlust living in the souls of men. To be victorious, she only needs to unwrite the future.
Fans of urban fantasy, superheroes and bold kick-ass women will fall in love with Eleanor as she ushers in the Rise of Superheroes.
Buy the book:
Author Bio:
It started with single comic book. Shunning books at a young age, his mother placed X-Men Classic #69 in his lap and for the first time he experienced the phrases, "Mutants," "BAMF," and "SNIKT." From that moment on, he imagined his enrollment at Xavier's School for Gifted Youngsters. Jeremy became known as a geek before it was a trend.
Jeremy came to writing late in his professional career. It wasn't until 2006 that he took part in his first NaNoWriMo, writing an epic science fiction novel. Later, he would use the opportunity to write Suburban Zombie High and his first draft of Children of Nostradamus.