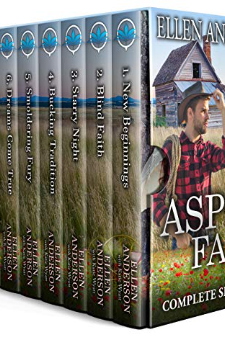 About Aspen Falls Complete Series Books 1 – 9 (Box Set Complete Series Book 6):
Aspen Falls, tucked into the foothills of the Rocky Mountains of 1870s northern Colorado Territory, is the home of the Hart family, founders of the growing town, Complete Series romance collection in one boxed set! Bestselling authors Ellen Anderson and Katie Wyatt
Follow Rachael Hart must face an unforeseeable tragedy that nearly crushes her spirit. Benjamin Hart wants nothing more than to explore the world beyond Aspen Falls, while his father wants him to take over the family's sawmill. Jason, the youngest son, wants to take over the business and expand it, but his father hasn't even considered that. Then there's Miriam, the youngest Hart daughter, the tomboy, flouting convention and prompting her mother's apoplectic fits.
Read all the Books by bestselling authors Ellen Anderson and Katie Wyatt
ASPEN FALLS SERIES
Book 1 – New Beginnings
Book 2 – Blind Faith
Book 3 – Starry Night
Book 4 – Bucking Tradition
Book 5 – Smoldering Fury
Book 6 – Dreams Come True
Book 7 – Wild Mustangs
Book 8 – The Outbreak
Book 9 – Jason's Challenge
Christmas In Red Rock
Books 1 Catching Christmas Spirit
Books 2 The Spark of Christmas
Books 3 Seeing Christmas Spirit
Books 4 Christmas Spirit Returns
HARVEY HOUSE SERIES
BOOK 1 A Love So Legendary
BOOK 2 A Love So Untamed
BOOK 3 A Love So Faithful
BOOK 4 A Love So Unstaged
BOOK 5 A Love So Miraculous
BOOK 6 A Love So Healing
BOOK 7 A Love So Bold
BOOK 8 A Love So True
BOOK 9 A Love So Devoted
BOOK 10 A Love So Eternal
BOOK 11 A Love So Courageous
BOOK 12 A Love So Enchanting
Mega Box Set Series
-51 Inspirational Sweet Western Romances Box Set (Mega Box Set Series Book 11
-31 Sweet Inspirational Romances Mail Order Bride & Christmas Box Set:
-24 Books Western Women Tales of Love Box Set: Historical Western Mail Order Bride and Contemporary Western Romance
-50 Boxset Inspirational Historical Western Romances, Mail Order Bride (Mega Box Set Series Book 8)
Ellen Anderson and Katie Wyatt Clean and Wholesome Historical western romance short story series are enjoyable for all ages.
Buy the book:
Author Bio:
Ellen Anderson started life near Sedona, Arizona, surrounded by the most beautiful scenery the West has to offer, along with its intricate history and myriad legends. Her favorite memories are of camping out on the family property under the vast canopy of stars, listening to her father and grandfather tell stories. Eventually, Ellen began writing her own stories, mixing her up-close-and-personal western experiences with special characters who share her unique sense of fun and adventure.
When she met her handsome husband on a horse drive, her path to writing historical western romances was sealed.
Today, Ellen and her husband still do some work on the family ranch, and their children are following in the family tradition, helping care for the Anderson horses. In her spare time, Ellen enjoys photography, swimming, trying out unique historical recipes from scratch and exploring ghost towns in the family RV.