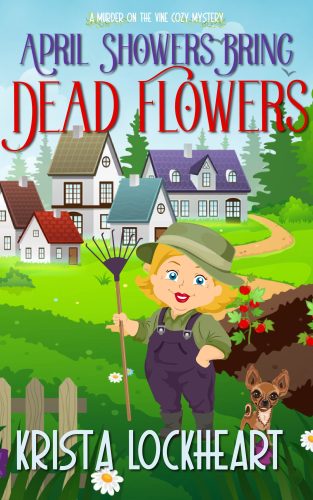 About April Showers Bring Dead Flowers by Krista Lockheart:
A powerful new cozy mystery series from award-winning and bestselling author Krista Lockheart. Join greenhouse expert Heather Moore and her sassy chihuahua as they uncover something unexpected in her new estate garden in this buzz-worthy fresh novel.
There's something growing in the garden . . . and it's not a flower. A mystery is growing in the garden!
Greenhouse expert and horticulture Professor Heather Moore gets a new lease on life when she inherits her grandparents' estate in New England. But the garden she loved as a child has seen better days. Determined to restore her grandfather's garden to its former beauty, she's accompanied by Ant, her charming chihuahua, and two of her favorite former students.
But wait, what? Ant suddenly digs up an even bigger challenge when he finds some human remains buried in an old potting shed. As she discovers clues and follows the evidence, a few suspects cross her mind, but ultimately they point to one wily and clever killer. Suddenly in danger herself, can Heather solve this puzzling mystery, restore her family's legacy, and bring about justice?
April Showers Bring Dead Flowers is the first novel in the Murder on the Vine series. Join Heather and Ant as they explore the seedy underworld of gardens, greenhouses, and flower shops in this 'unputdownable' murder mystery!
Extremely funny, with a fast-paced plot and appealing characters, this adorable and ingenious story will embed itself in your heart and grow into one of your favorite reads.
Perfect for chick-lit fans and with a dash of sweet romance as well, this will appeal and be highly accessible to many readers.
Don't miss this breakout novel in the cozy genre and pick up a copy today!
Buy the book:
Author Bio:
Award-winning author Krista Lockheart writes irresistible cozy mysteries filled with humor and buzzworthy characters and plots. Her favorite activity is interacting with her readers from all over the world, and she enjoys their feedback and comments on her social media platforms. She loves good food, good conversation, and good books! Cooking is a passion and she especially enjoys making pasta with vegetables. Chocolate, avocado, and seafood are her favorite foods to celebrate with. She loves being outdoors in the sunshine and at the beach.
Krista comes from an artistic background and her art workshops sell out within a few hours of signup. Her work has earned cultural council grants and has been featured in newspapers, magazines, and on TV and on the radio.
In the past few months, her memoir, travel travels, and short stories were published four times in the Writer & Readers' Magazine, and her travel tale about her expedition to Peru was the editorial feature in DRIFT Travel magazine.
She contributed a short story to a Halloween anthology and her debut novel was #1 in 12 categories on Amazon during its initial release (including in the Free Kindle Store and in New release categories).
It also earned seven book awards including
First Place at TheBookFest in Humorous
First Place at Royal Dragonfly Book Awards in Romance
First Place in Winter Pinnacle Book Achievement Awards in Romance
Finalist in the Book Excellence Awards in Romance
Second Place at the BookFest Awards in Girls & Women
Silver Award from Literary Titan
Honorable Mention at TheBookFest Awards for Coming of Age
It earned multiple five-star editorial reviews including from Book Commentary and Readers' Favorite. It was recommended by US Review of Books, and the Chick-Lit Cafe, as well as highly recommended and featured in the Midwest Book Review.