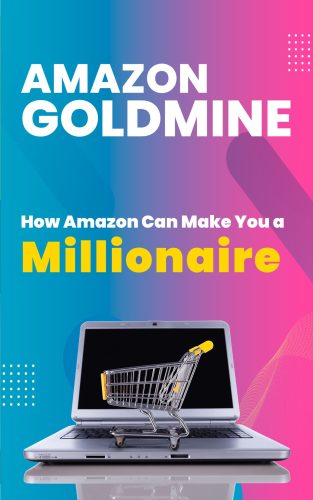 About Amazon Goldmine – How Amazon Can Make You a Millionaire:
Have you ever heard the name "Amazon" or bought any item on this popular marketplace which can either be a book, toys or other items and you really want to learn about how to use Amazon to make money online from the comfort of your home, then you have come to the right place. This eBook will teach you about how to start selling on Amazon, in addition to promoting the products on Amazon with what is popularly known on Amazon as either "Affiliates" or "Associates", in addition to writing and publishing your eBooks on Amazon. It is possible to make passive income by using Amazon as your source. The book will explain how you can get started in easy steps using Amazon to buy and resell your items, learn about how to promote products as an affiliate where you will be able to earn affiliate commissions, in addition to learning how to write and publish your books on Amazon both in Kindle and even Paperback. It is no longer news that as of today, Amazon is arguably one of the best online platforms in the field of buying and selling merchandise, which is popularly called "e-Commerce". Unquestionably, the biggest e-commerce platform in the world is Amazon, which is an internet giant with a global presence and reaches. The company began as an online seller of books, but quickly adopted emerging trends and branched out into other areas such as sales of entertainment media (like DVDs, VHSs, CDs, online video and mp3 streaming and downloads, software and video games). Amazon also expanded to other categories (electronics, clothing items, food, toys, children's items, jewellery, household items and more). Some years ago, Amazon diversified into the production of consumer electronics including the Kindle E-book reader, Kindle Fire Tablets, Fire TV and the Fire Phone. By selling on Amazon, you get the advantage of tapping into its more than 85 million unique monthly customers, that is a heck of a lot of eyeballs and those eyeballs can translate into higher sales volume. Not only that, once you get a customer to your store, though the buyer might not be looking for your store specifically, just stumble upon your store as a result of the keyword that the buyer typed into the Amazon search bar, you can turn that buyer into a repeat customer provided your item is good and is as described in addition to offering great customer service and fulfilment. How cool can that be you might not get that buyer if not for the fact that you have put up your items for sale on Amazon. Amazon also has a great marketplace infrastructure as it has a single stream of check-out and fulfilment support in order to create a seamless experience for buyers. Moreover, Amazon is a well-recognised brand, and this means it is trusted by people, if not buyers will not be trooping into Amazon daily looking for items to buy. There are so many other services that Amazon is involved in, such as "Selling your Apps, your Business and much more. If you can take time out to read about the many potential ways of making money with Amazon, you can substitute Amazon in place of your 9 – 5 payday job. This book is thus written to show you how to make money on Amazon using the 3 different methods which are: Buying and Selling, Affiliate Programs and writing and publishing your books into the Kindle platform. If you care to read this book carefully, take the required steps and work hard at it, you will soon discover that you can use Amazon to make tons of money and all from the comfort of your home. Do not delay any longer, jump into the bandwagon of earning income with Amazon.
Buy the book:
Author Bio:
I'm Esther and has worked in so many establishments such as oil company, banking, the health care sector, schools, etc. She has always loved the "art of writing" and did not really discover it until much later in life when one of his lecturers at the University said to "her", you are very good with writing, and I can see you making it in the publishing industry if you choose to troll that path. I never took it seriously until the year 2013 when "Andy Murray" won the Wimbledon Singles Tennis Champion, called "Grand Slam". I had always liked, and adored Andy and it usually pains me to see him losing to the opponent more especially when it gets to the final. Andy first won the coveted trophy in the USA – New York and could remember one of the UK newspapers referred to him as "The King of the New York" after the victory over his opponent – Novak Djokovic, they have known each other since they were young and sometimes train together as my research revealed. I was so happy for him, and I started praying that he will repeat the same feat in the United Kingdom. In fact, before he won the grand slam in New York in 2012, he lost to Roger Federer in the final Wimbledon Open in early 2012, and he actually "cried" and could see myself shedding tears with him, and almost all the newspapers in the "UK" and even television houses captured the "crying" of Andy. It was after he won the coveted trophy in New York that he finally revealed his heartaches, and pains, when he said something along the line of "I had many dreams about winning the coveted trophy", which, never materialised, but according to "him", he refused to give up and he won at last.
It does not matter where we come from, the family we belong to or even the country we live in, the "Creator of the Universe", whether you believe it or not, has deposited into each one of us the potential to make it in life. It is only those that discovered the potential be it early in life or later in life, the "key" here is that you succeeded in fulfilling your divine potential before you finally take a bow out of this world, which will happen to all of "us" and none of us knows that day, not even the minutes. I have heard from two people that the greatest wealth and riches are in the graveyards – meaning so many people have died without fulfilling the purpose for which they were created.
Andy succeeded at last and though might not win many trophies like his counterparts – Roger Federer, Rafael Nadal, Novak Djokovic or even his female counterparts like Venus and Serena Williams, nevertheless, I really adored his courage, and I will forever remain grateful to him, though, he does not know me, and I don't want him to. Notwithstanding, I took the 1st step at writing after his victory in 2013. Please let us all wake up from our slumber, and go back to our "Source", to discover why He has created "you". I'm also sure that "UK" will not and cannot forget "Andy Murray" in a hurry – he won the Wimbledon final after 76 years when "Fred Perry" won the coveted trophy.
Also, an inspiration to me is Susan Boyle who sang "I dream a dream" on the popular British Got Talents. Susan shot into fame as soon as she sang the song and really admired her courage coming out to sing even in her late 40s. She defied all the odds despite her failures at getting recognised based on her story. It does not matter how old you are in as much as you decide to leave your comfort zone to get discovered.