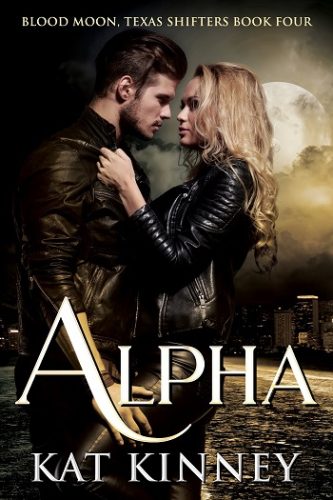 About Alpha by Kat Kinney:
Brody Caldwell, deputy sheriff and alpha of the Blood Moon, Texas pack, receives a phone call on the eve of a crucial summit between humans, shapeshifters and vampires. An assassination attempt has been made against the leader of the werewolf council. One of his brothers claims responsibility. After a series of attacks and increasing hostility from the council, Brody seeks out a former source to get answers—London Blake, the fierce and beautiful former alpha of the Austin, Texas pack.
Two years ago, London was exiled by the werewolf council for a crime she didn't commit. With her pack subject to human rights violations and the council refusing to listen, London turns to Brody to help her gather the intelligence needed to clear her name.
Someone wants them silenced. Together they will have to race against the clock to discover who is behind the attacks before they derail the paranormal peace summit.
ALPHA is part of the Blood Moon, Texas Shifters series. Sizzling hot romance. Guaranteed HEA.
Buy the book:
Author Bio:
Author Kat Kinney lives with her family and two extremely pampered guinea pigs who do not like werewolves, vampires, or falcons and wonder why their human insists on writing about things that like to eat them. When she isn't writing about things that bite and howl, Kat can be found knitting crazy socks and plotting out future books!