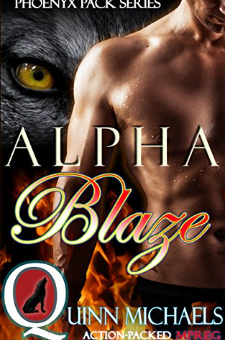 About Alpha Blaze (Phoenyx Pack (M/M Mpreg Romance) Book 1) by Quinn Michaels:
Both will betray the pack. Can they save each other?
In the Louisiana bayou, the bond between alpha and omega burns hot and dangerous.
Kevin was a beautiful contradiction of vulnerability and fury wrapped in pure sex appeal.
It was all I could do to hold my wolf in check. If I pushed too hard, I'd lose. I couldn't afford to lose Kevin. Already, this omega had become precious. I hadn't come here to find a mate. That didn't matter. The omega was mine and I was his, whether we liked it or not.
His name was Blaze, and Kevin was playing with fire.
Our eyes met. It was just dinner. Blaze kept to the boundaries of our agreement, but I wanted more. I'd never felt this way about an alpha. Blaze was everything I wanted and everything I couldn't have.
Alpha Blaze is an action-packed mpreg romance novel of 64,000 words with hot werewolf bikers, bad language, smutty-times, knotting, and men who get pregnant. Warning: this book contains a tough-as-nails omega struggling to overcome a painful past (incl. rape trauma and miscarriage) and a strong, sensitive alpha who will do anything to win his omega's heart.
Buy the book:
Author Bio:
I love fantasy, werewolves and M/M mpreg romance! My goal is to write action-packed adventures of romance, self-discovery and second chances, all served up with a hefty helping of sweet, sexy Omegas and hot, determined Alphas who will do anything to cherish, love, and protect them. It's so exciting to be able to share my characters and worlds with you, and I hope you enjoy them!