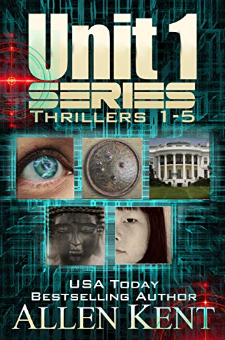 About Allen Kent's Unit 1 Series by Allen Kent:
From USA Today and Amazon bestselling author, Allen Kent! Five unforgettable thrillers in one!The Shield of Darius, The Weavers of Meanchey, The Wager, The Marburg Mutation, Straits of the Between. Follow Kent's covert Unit 1 team as they defuse crises and clean up disasters too hot to handle by America's more visible intelligence community. From the labyrinthine bazaars of Tehran, to the jungle ruins of Cambodia's Angkor Wat, to the monastic palaces of Tibet's Buddhist lamas, the Unit 1 Series takes the reader on a globetrotting, page-turning ride into the darkest corners of the world's most sinister places. A "must read" for thriller enthusiasts.
Buy the book:

Author Bio:
Allen Kent is a USA Today and Amazon bestselling author with a number of other writing awards. Four years of his life were spent living in Iran and England, and he has traveled and worked extensively in Europe, the Middle East, and Southeast Asia – experiences that are reflected in his writing. He and his wife Holly are avid travelers, gardeners, and conservationists, and live in an eco-friendly home in rural southwest Missouri. Kent is the author of the popular Unit 1 thriller series, the Whitlock Trilogy of historical fiction, The Colby Tate Mysteries, and other mysteries and thrillers. Visit his website at allenkentbooks.com.