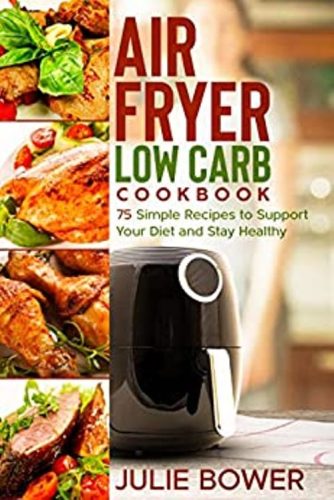 About Air Fryer Low Carb Cookbook: 75 Simple Recipes to Support Your Diet and Stay Healthy:
Ever thought of making meals that are both delicious and have great nutrition values?
Curious to know if it is possible to prepare healthy meals with the Air Fryer?
Did you know that the air fryer could turn out to be your best kitchen companion?
If any of these questions resonate with you, then this Air Fryer Healthy Cookbook may just be your solution!
In this guide, you will find a collection of healthy, low-carb recipes that you can prepare with Air Fryer.
The directions outlined are easy to follow and understand, with nutritional values and portion control included in each recipe.
Breakfast is the most important meal of the day, so why not start it with a great Air-Fryer meal, such as:
Air fried Stuffed Peppers
Pork Turkey Sausage
Low Carb Chia Bread
In addition to breakfast, an Air Fryer Cooker is perfect for preparing main courses. Under this category, you will find tasty, easy to prepare, and quick lunch and dinner recipes. Be sure to explore the wide variety of main course recipes, including:
Buffalo Chicken Legs
Spicy Mexican Chicken Burgers
Air Fried Prawns
When it comes to snacking, this guide will become your go-to resource, and you will never be disappointed.
Who said desserts could not be both healthy and delicious?
This Air Fryer Recipes Book will provide you with a list of some amazing recipes and may even inspire you to come up with your own. The key is to obtain the knowledge on Air Frying, and this book has you covered.
So now, whether you are looking to treat your friends, family, or just yourself to a delicious, healthy meal, look no further! You will be sure to find the perfect recipe from our collection, and simple guidelines will make the cooking process quick and simple.
Whether you are struggling with weight loss, or trying to improve your overall health, this guide will become your solution. The recipes described in this book are low in carbs, and by air frying the meals, you eliminate the majority of the unhealthy fat in the food.
Buy the book: