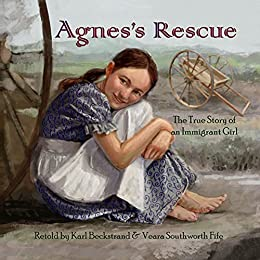 About Agnes's Rescue: The True Story of an Immigrant Girl (Young American Immigrants Book 1) by Karl Beckstrand:
(Biography) Nine-year-old Agnes hopes for a better life in America—but will she survive the journey there? (#1 – Young American Immigrants series; 1,500 words, 32 illustrations for ages 6 – 12 years)
Buy the book:
Author Bio:
College media instructor Karl Beckstrand is the best-selling author of 26 titles (60+ e-books) with reviews by Publisher's Weekly, Kirkus, and School Library Journal. Raised in San Jose, California, he has a B.A. in journalism, an M.A. in conflict resolution, and a broadcast & film certificate. His western, To Swallow the Earth, won a 2016 International Book Award. Beckstrand's mysteries, nonfiction, STEM, and Spanish/bilingual books feature diverse characters—and usually end with a twist.