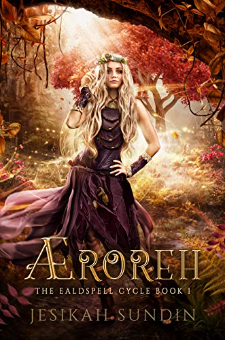 About Æroreh: A Sleeping Beauty Retelling (The Ealdspell Cycle):
Standalone in a shared world
Her reality is a dream. His is a nightmare.
Beauty. Gentleness. Obedience. Grace. Good cheer.
Faerie blessed at birth, Princess Æroreh Rosen was molded into feminine perfection for the queen's agenda of a New Dawn Era.
But the realm of Rothlín is far from perfect.
Hunger and sickness plague the factory-choked land. Æroreh, however, is oblivious to the plight of her people. Or her mother's cruelty. Plugged into The Dream, she is programmed to remain awake and only see a prospering realm through illusions of beauty and contentment. But all that changes when a rebel sect of faeries releases her mind and unleashes her magic—the power to weave new realities while dreaming.
Now on the run, Æroreh's unspooling world collides with Félip Batten McKinley's, a shadow walker and the surviving heir to the throne of faerie. The very throne the queen maneuvers to annihilate. And why the faeries hid him as a child in the factory slums of Rothlín. But an uprising pushes Félip from the shadows of his life and into the hauntingly beautiful light of Æroreh Rosen—a young woman who represents every nightmare he knows.
Yet only she has the power to awaken a new dream.
Æroreh is a gritty dystopian mythpunk spin on the romantic tale of Sleeping Beauty, blending faerie magic and pagan ritual with high technology. Guaranteed to please readers who love angsty, enemies-to-lovers slow-burn romances, twisted faerie tales, and strong found family themes.
STANDALONE in a connected series / shared world
Guaranteed happily ever after
Name pronounced like Aurora.
Buy the book:
Author Bio:
JESIKAH SUNDIN is a multi-award winning Dystopian Punk Lit, Fairy Tale, and Historical Fantasy writer, a mom of three nerdlets, a faeriecore and elfpunk geek, tree hugger, nature photographer, and a helpless romantic who married her insta-love high school sweetheart. In addition to her family, she shares her home in Seattle, Washington with a rambunctious husky-chi, a red-footed tortoise, and a collection of Doc Martens boots. She is addicted to coffee, GIFs, memes, potatoes, cheese, mossy forests, eyeliner on men, and artsy indie alt rock.
AUTHOR NAMES:
Jesikah Sundin: dystopian, fantasy romance, and faerie tales
J. Sundin: reverse harem fantasy romance
Jae Dawson: contemporary small town romance
Follow Jesikah online for the latest news, releases, events, and social media shenanigans:
MOONTREE READERS (Facebook Fan Group):
https://www.facebook.com/groups/MoonTreeReaders/
NEWSLETTER