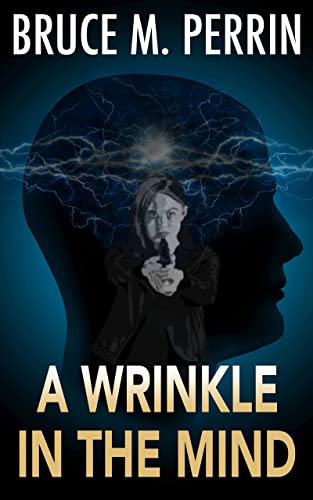 About A Wrinkle in the Mind By Bruce M. Perrin:
Release Day – May 18th!!
FREE on Kindle Unlimited!!
When Violet Cruz accused U.S. Representative Alan Barclay of being "the spawn of a Martian whore" and took a shot at him, everyone agreed that she was delusional. It was just another conspiracy theory in Washington, DC, where such bizarre claims had become all too common.
Tiring of the media harassing the family, however, Cruz's cousin brought the case to Private Investigator Rebecca Marte. She figured that the public was probably right. Rebecca was, however, willing to give the case another look as Cruz's sudden, total break from reality without any apparent cause was almost as strange as her beliefs.
With his background in psychology, working with Sam "Doc" Price made sense to Rebecca and she welcomed him as a consultant. But soon, the two, who had worked so well in the past, found themselves at each other's throats. She dropped him from the investigation, but with his "dog with a bone" determination, Doc went on alone.
Unfortunately, the now-divided team was going after an adversary more cunning and more ruthless than any they've faced before. If they'd realized the odds of their survival apart, they would have found a way to put their differences aside before it was too late.
Buy the book:
Author Bio:
Bruce Perrin has been writing for more than 25 years, although you will find much of that work in professional technical journals or conference proceedings. But after completing a PhD in Industrial/Organization Psychology and spending a number of years in the research and development of advanced learning technology with a major aerospace company, he's now applying his background to writing. Not surprisingly, most of his work falls in the techno-thriller, mystery, and hard science fiction genres, examining where technology and psychology meet, now and in the future.
In addition to pounding the keyboard, Bruce likes to tinker with home automation and is an avid hiker, logging nearly 2,500 miles a year in the first eight years of Fitbit ownership. When he is not on the trails, he lives with his wife in Aurora, CO. For a closer look at his writing life, book reviews, and progress on his upcoming works, please join him at brucemperrin.com.