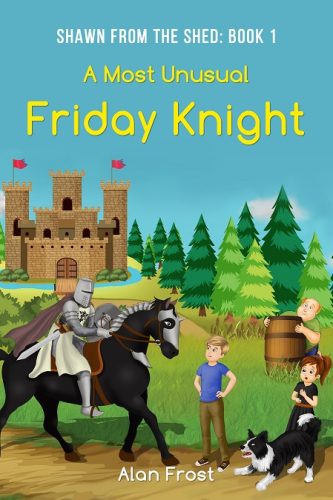 About A Most Unusual Friday Knight (Shawn From the Shed, Book 1):
History is now in the hands of two orphans, a border collie, and a quirky inventor
For as long as Johnny and Ella have known him, Shawn has been the odd but sad man who lives in the shed at the orphanage run by his iron-fisted sister. Every day, the kids watch from the windows as he walks the dog, fixes things, and takes his sister's belittling with only a sigh.
Everything changes the night Johnny and Ella decide to investigate lights flashing from the shed. The night they discover Shawn's time machine, which sends them all to medieval England – to a time of powerful lords, brave knights, and jousting tournaments. Unfortunately, not all lords are just and not all knights are righteous, and soon their trip turns into a seemingly impossible quest to save the lives of innocent villagers – as well as their own. All complicated by Shawn's odd behavior and terrible manners, leaving it up to Johnny and Ella to teach him how to behave properly.
With a combination of modern technology, ingenuity, and trickery, can two orphans, a dog, and a quirky inventor change the course of history?
Buy the book:
Author Bio:
Alan Frost is an author of middle grade and young adult sci-fi and fantasy. After nearly 15 years working as a translator, Alan decided to take the plunge and start publishing his own material. His main passion is subjects that extend the boundaries of what we think possible, in particular modern fantasy and time travel.
Even though his family is from Washington DC, Alan resides in Copenhagen, Denmark, where he spends as much of his spare time as possible enjoying nature, playing sports and annoying his friends with bad jokes and (hopefully good) story ideas.