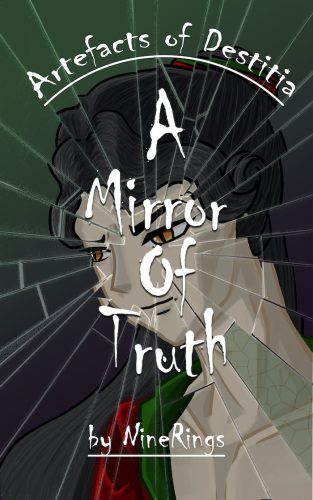 About A Mirror of Truth by NineRings:
Matt Skyfair (he/him) was as normal as they come for a child of Bounty Hunters. He had his life planned out for him, train and become a Bounty Hunter of the Nine Rings. His purpose, to hunt down those of pure evil and destruction. In his last year of assessments, he was joined by nine others from around the Nine Rings and is examined by Captain Edith Sanguis, a renowned Bounty Hunter with a questionable past and a more questionable ancestry. With his best (ghost) friend, Shun Jin (he/they), by his side, Matt thought he would be fine this year.
However, all is not what it seemed.
When demons start searching their realm for a dangerous artefact, it becomes a race against time to save the realm from some doom they've yet to work out.
Mixing opposing parties is dangerous business, but what will happen when Holy Tribes and Demonic Tribes mix? Or perhaps Bounty Hunters and Shadow Paladins?
Buy the book:
Author Bio:
NineRings is bilingual Australian Chinese non-binary author who sees the world through very different lens as a result of their upbringing. Aside from writing, they are a cellist, flutist and artist, stubbornly choosing to create the covers of their novel as 'it holds a personal connection'.
The story of the universe known as the Nine Rings, developed over many years of spacing out in class and at work, extends across all of their novels under the same pen name, regardless of the original language of publishing, with Dark Cloud featured as main character in 《净天怨天》(Cleansing Hatred) found at https://jjwxc.net, along with 《神探喜欢蹲牢房》(The Detective Prefers Prison), under the same pen name.