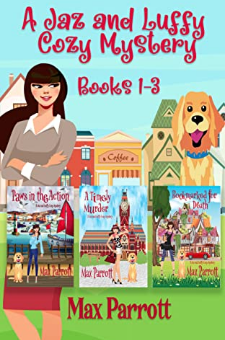 About A Jaz and Luffy Cozy Mystery: Books 1-3 (A Jaz and Luffy Cozy Mystery Collection Book 1):
"The story has a Nancy Drew style to it… fun and upbeat with a mystery that's intriguing, engaging, and is perfectly fitted to the witty duo of Luffy and Jasmine… funny, charming, lighthearted"–5 Stars, Readers' Favorite
BOOK ONE
A quaint town full of secrets. A string of bizarre occurrences. An unconvincing suicide…
Jasmine Moore is a local favorite who is unusually gifted—she has random visions of the future that often portend disaster. She can also understand her loyal golden retriever. Literally.
When a body is discovered in the small town of Blackwood Cove, the authorities are ready to write it off as a suicide. But for Jasmine, something doesn't quite add up…
The deceased was a seasoned swimmer. Drowning was probably the last way to go.
Taking up the mantle of detective, Jasmine sets out on a path full of twists and turns to solve the baffling case. Sifting through decades of forgotten town history and long-buried secrets, she soon discovers that everyone has something to hide.
Time is running out, and Jasmine needs to unearth the startling truth before the town is shaken to its core yet again.
BOOK TWO
She thought the mysteries were behind her…
When a promising young student plunges to his death from a historic clock tower, Jasmine knows that foul play is involved. Once again summoning her detective skills and her faithful companion Luffy, she must solve another case and catch an evasive killer.
Under the spell of the spring rains, her investigation will take her deep into the ancient halls of Wildwood College – a historic building echoing with memories of the past. As Jasmine peels through the darkest layers of secrets, she casts a new light on the College and its long-dead inhabitants.
But with a murderer on the loose and time running out, will she get to the bottom of it all? Or will the clock run short?
BOOK THREE
A puzzling murder and not a suspect in sight…
After a dead body is discovered in the dusty stacks of the old library, the quiet seaside town of Blackwood Cove is once again plunged into a seemingly unsolvable case.
College student Jasmine Moore wanted nothing more than to relax with a good book after a stressful and tumultuous semester. But it seems like fate has other plans. Surrounded by familiar faces and accompanied by her trusted dog Luffy, this amateur sleuth must once again put her wits to the test against a baffling murder with not a suspect in sight.
If Jasmine wants to fight her way to the bottom of this mystery, she'll need more than just luck this time. With a sea of conflicting clues and contradictory information, it seems like Jasmine and Luffy are up against their toughest case yet. Only a few subtle connections hold the secret to finding the killer – if she's quick-thinking enough to spot them…
Buy the book:
Author Bio:
Max Parrott is a dog trainer who currently lives in Seattle with his beloved golden retriever named Luffy. It is this special canine friend that has inspired him to start his very own cozy mystery series.
The inseparable duo often enjoy big long walks down the canal where Max reminisces about Luffy's one shot at fame – a close second in Musical Chairs for dogs one wintry Christmas eve.
You can follow Max here:
Amazon: https://amzn.to/2YVpbtk
Goodreads: https://bit.ly/3iwIkJF
Bookbub: https://bit.ly/2D6vVvT
A Jaz and Luffy Cozy Mystery Series
Book 1: Paws in the Action
Book 1.5: Cold Case (Free Novella)
Book 2: A Timely Murder
Book 3: Bookmarked for Death
Book 4: Three Lines of Inquiry
Book 5: Pumpkins & Peril
Book 6: Winter Murderland
Book 7: Six Paws Under
Book 8: Anubis Fortunis
Book 9: Fashion Fatality
Book 10: Dead Man's Trail
Book 11: A Terminal Paws
Book 12: Fiction Affliction
For free reader magnets, please click here:
Cozy: https://dl.bookfunnel.com/boa2a0o66q
Furry Friends: https://bit.ly/37cpnZU