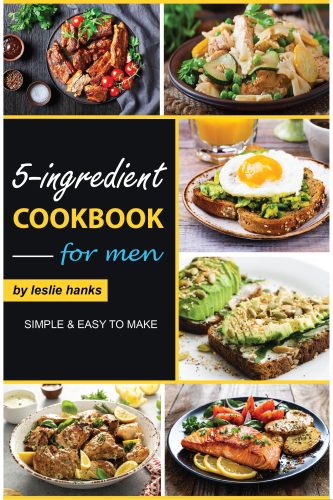 About 5-Ingredient Cookbook for Men:
Save time and money by preparing family meal with five or fewer ingredients. Who has time to cook anything special for dinner after a long day at work? That doesn't imply, though, that you'll have to depend on frozen pizza. You do not need to be concerned about more labor.
You'll be one step closer to a delicious breakfast, lunch, or supper with these simple 5-ingredient dishes. To show your loved ones that you care, you don't need to purchase a lot of ingredients.
These dishes, for example, just need five ingredients – maybe even fewer – yet they'll still taste fantastic. Prepare to have your mind blown with these 5-ingredient dishes. Let's get some food!
This book includes not only recipes but also culinary hints and suggestions for food substitutions, equipment and cooking shortcuts, and how to utilize leftovers.
Say goodbye to time-consuming recipes that need many visits to the supermarket or require so much equipment that you spend the rest of the evening washing up.
Let's get this party started!
Buy the book:
Author Bio:
Leslie Hanks is a professional writer who loves to explore her culinary passion through travelling in different regions of the world.
In the recent years, she has been enjoying recipes from multiple cuisines. This eventually led her to involve herself in writing recipes. With her experience in culinary world, she now shares fun and easy recipes in her cookbooks.
In her pastime, she enjoys yoga, gardening, baking and celebrating the rich food heritage of the diverse communities of the world.