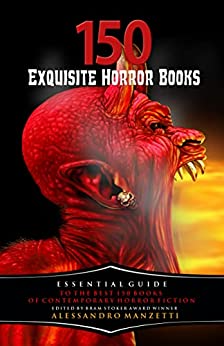 About 150 Exquisite Horror Books: Essential Guide to the Best 150 Books of Contemporary Horror Fiction:
A guide to some of the best horror and supernatural books, as recommended by several of the biggest names in the industry.
Compiled and edited by the Bram Stoker Award-winning author Alessandro Manzetti, this is a guide to the best 150 books of modern horror, weird, and dark fantasy fiction (single author novels, novellas, and collections of short stories) published between 1986 and 2020.
This captivating book includes publication details, reading notes and ratings for each work, as well as top-ten lists contributed by well-known writers, editors, critics, and essayists, including:
Joe R. Lansdale
Ramsey Campbell
John Skipp
Ellen Datlow
Stephen Jones
Linda D. Addison
Jack Bantry
David Barnett
Mort Castle
Randy Chandler
Brian Evenson
Owl Goingback
Eric J. Guignard
Paula Guran
Grady Hendrix
Kate Jonez
S.T. Joshi
Edward Lee
RC Matheson
Lisa Morton
Steve Rasnic Tem
David J. Schow
Craig Spector
Angela Yuriko Smith
Dacre Stoker
and Lucy Taylor
This guide is an essential resource for readers and fans of 20th century horror and supernatural books, in a modern and easy-to-read format, to discover the best books of the horror genre.
The most read guide in hell is finally here. Come dive into 150 books of must-read horror.
Proudly represented by Crystal Lake Publishing—Tales from the Darkest Depths.
Buy the book:
Author Bio:
Alessandro Manzetti (Rome, Italy) is a two-time Bram Stoker Award-winning author, editor, scriptwriter and essayist of horror fiction and dark poetry. His work has been published extensively (more than 40 books) in Italian and English, including novels, short and long fiction, poetry, essays, graphic novels and collections.
​
English publications include his novels Shanti – The Sadist Heaven (2019) and Naraka – The Ultimate Human Breeding (2018), the novella The Keeper of Chernobyl (2019), the collections The Radioactive Bride (2020) and The Garden of Delight (2017) the poetry collections Dancing with Maria's Ghost (2021), Whitechapel Rhapsody (2020), The Place of Broken Things (2019, with Linda D. Addison), War (2018, with Marge Simon), No Mercy (2017), Sacrificial Nights (2016, with Bruce Boston) Eden Underground (2015), Venus Intervention (2014, with Corrine de Winter), the graphic novels Calcutta Horror (2019), Her Life Matters (2020), The Inhabitant of the Lake (2021), Kraken Inferno (2022), and the essay/guide 150 Exquisite Horror Books (2021)
​
He edited the anthologies The Beauty of Death (2016), The Beauty of Death Vol. 2 – Death by Water (2017, with Jodi Renee Lester), Monsters of Any Kind (2018, with Daniele Bonfanti) and 2021 Rhysling Anthology (2021)
​
His stories and poems have appeared in Italian, USA, UK, Australian, Canadian, Russian and Polish magazines such as Weird Tales Magazine, Dark Moon Digest, Splatterpunk Zine, Disturbed Digest, Space and Time Magazine, Darker Magazine, The Horror Zine, Dark Moon Digest, Illumen, Devolution Z, Hinnom, Recompose, Polu Texni, Nothing's Sacred, Okolica Strachu, and anthologies such as The Best Horror of the Year Vol. 13, Splatterpunk Forever, Best Hardcore Horror of the Year Vol. 2, 4, 5, 6, Classic Monsters Unleashed, The Big Book of Blasphemy, Midnight Under the Big Top, Rhysling Anthology (2015, 2016, 2017, 2018, 2019, 2020, 2021), HWA Poetry Showcase Vol. 3 and 4, The Beauty of Death Vol. 1 and Vol. 2, World of Light and Darkness, One of Us, Professor Charlatan Bardot's Travel Anthology to the Most (Fictional) Haunted Buildings in the Weird, Wild World, Tales of the Lost Vol. 3, Hope: Poems of Hope and Resilience From the Pandemic, Sorrow and many others.
​Awards and Nominations:
• Bram Stoker Awards 2019 winner
• Bram Stoker Awards 2015 winner
• SFPA Elgin Awards 2019 winner
• Bram Stoker Awards 2021 nominee
• Bram Stoker Awards 2020 two-time nominee
• Bram Stoker Awards 2019 three-time nominee
• Bram Stoker Awards 2018 nominee
• Bram Stoker Awards 2017 two-time nominee
• Bram Stoker Awards 2016 two-time nominee
• Bram Stoker Awards 2014 nominee
• Splatterpunk Awards 2019 nominee
• Splatterpunk Awards 2018 nominee
• Rhysling Awards 2015, 2016, 2017, 2018, 2019, 2020, 2021 nominee
• Elgin Awards 2015, 2016, 2017, 2018, 2019, 2021 nominee
• This is Horror Awards 2017 nominee
• Indie Horror Book Awards 2019 nominee
• HWA Specialty Press Awards 2017 winner (as CEO of Independent Legions Press)
Website: www.battiago.com