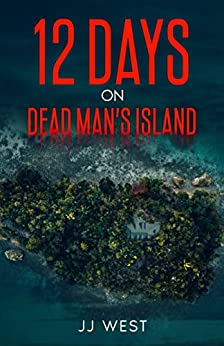 About 12 Days on Dead Man's Island: A Tim Jacobs Mystery (Tim Jacobs Detective):
Their honeymoon turns to horror and then goes from bad to worse. Will they get out alive?
Tim and Suzy weren't superstitious, so when a secluded island resort opened just in time for their honeymoon, they didn't even hesitate to book a room on Dead Man's Island.
It turned out they got more than they bargained for, first when the owner turns up dead and then some of the guests also become victims. Tim, a new detective, doesn't mind solving crimes, but he doesn't like that Suzy is in danger while he searches for the culprit.
When they didn't think it could get any worse, a storm arrives and their boat doesn't come. Unable to contact anyone on the mainland for help, it falls on Tim to stop the killer before anyone else dies.
Buy the book:
Author Bio:
J.J. West lives in Portland, Oregon with his wife and their three young children. By day he teaches middle-school English. By night, he writes stories that would give his students nightmares.
He loves reading and writing stories about how fragile our lives are. A good story, in his opinion, is one that scares you a little bit; a great story, according to Jasper, is one that scares you a lot.